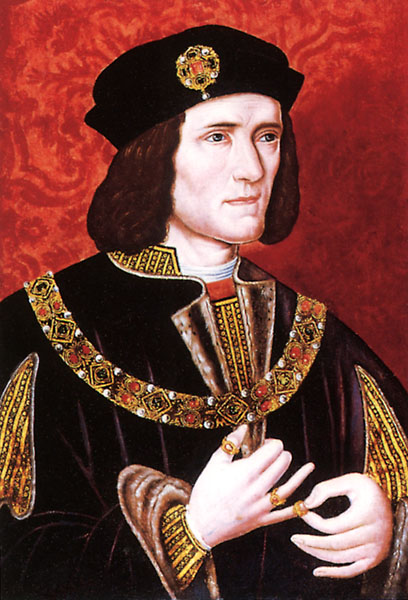 In light of
the recent confirmation of the discovery of the remains
of
the last Platagenet king of England
, I thought that I would link to
this post over at The American Chesterton Society
, excerpting G.K. Chesterton setting the record straight about the reign of Richard III. Much of the popular imagination about Richard stems from
the clever writing of Tudor propagandists
, notably St. Thomas More (who had begun his political career under
Henry Tudor
, the man who triumphed in the battle that cost Richard III his life), and Shakespeare (who composed his play
Richard III
during the reign of the last of the Tudors, Elizabeth I). The truth about Richard is, therefore difficult to determine, although I am inclined to agree with Chesterton's view that he was not nearly so bad a man as the Tudors would have us believe.
During his two-year reign, Richard III enacted
significant legal reforms
, including incorporating the practice of bail into the criminal justice system of England, mandating that laws and legal decisions be written in English rather than in Norman French or Latin, and improving representative government for the common people of the north of England. Whatever his faults, that does not appear to be the program of a tyrant bent on blood. Richard, again for all his faults, was a believing Catholic and if he had retained his life & his throne, there is little doubt that English history would have radically different than the path it took under the Tudors. When Richard III ruled, England was one of the most Catholic countries in Europe, a well-spring of the faith. It likely would have remained so had the Plantagenets kept the throne.
But at this point, such speculation is neither here nor there. History took the turns it did, and now all the remains is to remember this fallen king, not a hunchback with withered arm (as More and Shakespeare both portrayed), but a young leader burdened by scoliosis and in the end betrayed by his followers. Let him rest now, given a proper burial and remembered not just for the evil attributed to him by his enemies and detractors, but for the good that he did during his short reign.
Of course, as The Pittsford Pereniallist points out, wherever he is given burial,
the rites should be those of the Catholic Church
, the Church that Richard was baptized into and died a member of. To bury Richard as an Anglican would be perverse, given that the Church of England was started by Henry VIII, the son of Henry Tudor, the man who overthrew Richard.
Related item:
did Richard III order the murder of the Princes in the Tower? This post over at The Richard III Society makes the argument that Richard had nothing to do with the disappearance and killing of the sons of Richard's brother, Edward IV:
Were the "Princes in the Tower" Murdered?